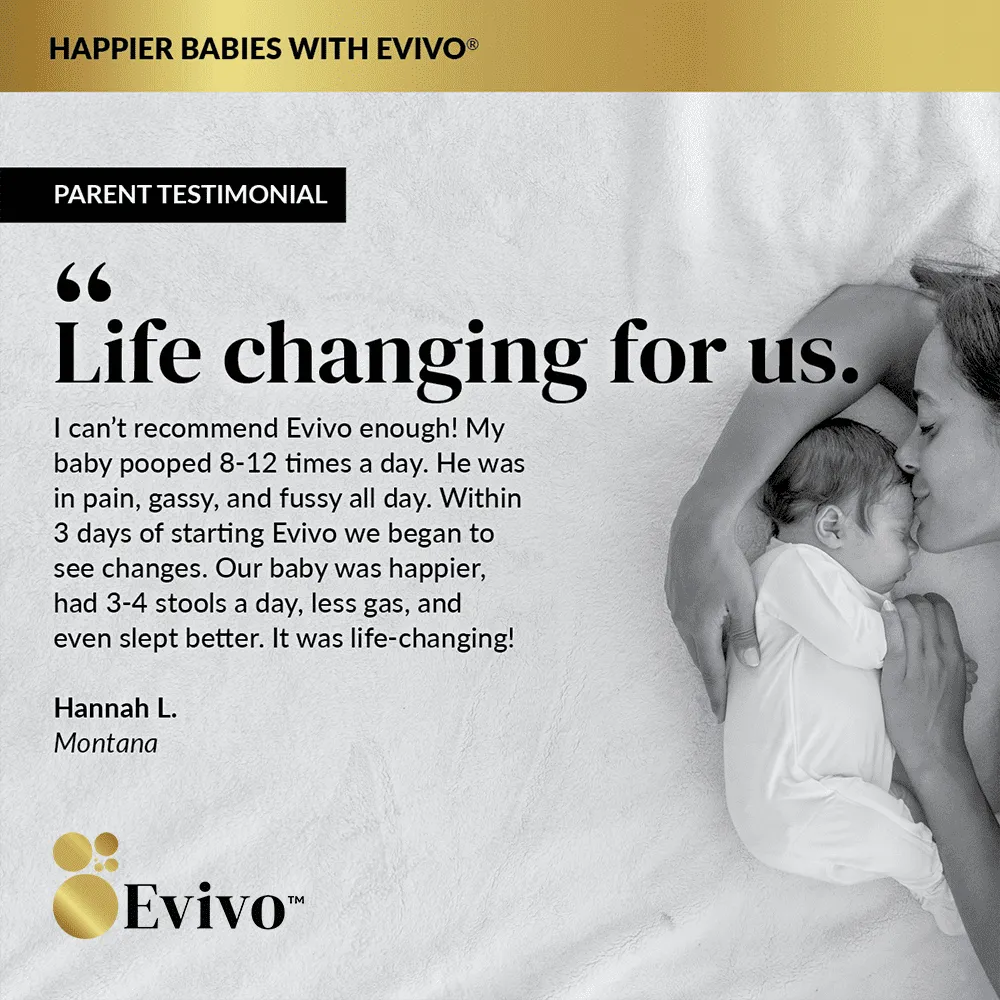 CHAMPS Pediatrics is a proud to partner with clinically proven Evivo Infant Probiotic.
Buy now at https://store.evivo.com/pages/evivo-starter-kit?ref=champsprobiotics
Get 15 % off with code: EVIVO-15-CHAMPSPEDIATRICLLC

Evivo is a daily probiotic containing a beneficial bacterial strain, B. infantis EVC001, shown to work with breast milk to help establish a healthy gut microbiome and support immune function.
Evivo has the good bacteria babies need to help support their gut microbiome with a single powerful ingredient only found in Evivo: B. infantis EVC001. Studies show babies fed Evivo have reduced colic-associated symptoms and better sleep.
Research shows parents reported improvements within a few days of feeding Evivo: • Improved sleep: 52% of parents said baby slept longer • Less gas & fussiness: 63% of parents reported a decrease • Reduced diaper rash: 72% of parents reported an improvement Source: Dimitratos et al. Symptomatic relief from at-home use of activated Bifidobacterium infantis EVC001 probiotic in infants: results from a consumer survey on the effects on diaper rash, colic symptoms, and sleep. Beneficial Microbes. 2021:1-8. doi:10.3920/bm2020.0229
The powerful single strain that matters for infants. B. infantis EVC001 in Evivo is clinically proven to uniquely pair with breast milk to help babies access special nutrients in breast milk. By pairing with breastmilk, B. infantis EVC001 converts especial nutrients found in human milk into signaling molecules that positively support healthy immune system function. By ensuring babies have of B. infantis EVC001 from birth, we maximize that small but crucial window of opportunity to positively impact babies' health.
How Evivo Works?
Evivo contains B. infantis EVC001— a single strain bacteria— that helps babies maximize the benefits of breastmilk by capturing, consuming and converting a special type of nutrients called human milk oligosaccharides (HMOs) • Capture: EVC001, our proprietary strain of B. infantis, captures HMOs found in breast milk, helping infants maximize their nutrition from breast milk. • Consume: B. infantis EVC001 then consumes HMOs to colonize, or to establish, within the gut and help protect baby from potentially harmful bacteria. These harmful bacteria have been linked to eczema, colic, and diaper rash. • Convert: Finally, B. infantis EVC001 converts HMOs into metabolites, key signaling molecules that help guide healthy immune function.
Feeding Instructions / Directions
Once a day. Every day.
Directions
Pour: Pour 1 entire sachet of Evivo into a small bowl or bottle
Mix: Add breast milk or formula based on table below. Mix well.
Feed: Use immediately once mixed. Discard leftovers. Do not store for later use.
No additives No artificial colors or dyes No artificial flavors No artificial preservatives Gluten-free
Can Evivo be used with formula?
Evivo is safe to use with breast milk or formula. Evivo works best for breastfed or mix-fed babies that are receiving some amount of breast milk.
What ages is Evivo recommended for?
Evivo is recommended for babies starting at birth. Your child can continue to take Evivo as long as they are receiving some amount of breast milk in their diet.
Does Evivo contain dairy or soy?
Evivo contains lactose derived from dairy. It is not expected that any intact milk protein, soy or casein protein is present in the final product, but it is also not guaranteed. If you have concerns, talk to your pediatrician to determine if Evivo is suitable for your baby.

Supporting Data B. infantis EVC001 has a powerful synergy with breast milk
B. infantis EVC001 helps transform human milk oligosaccharides (HMOs) into organic molecules that human cells can absorb, providing more available nutrients. Without B. infantis EVC001, research published in mSphere and Frontiers in Pediatrics shows these HMOs, unabsorbed, go into the stool. B. infantis EVC001 helps support healthy immune function
B. infantis EVC001 converts HMOs into key signaling molecules called metabolites. Recent research published in Cell, shows these metabolites promote healthy gut function and help program immune cells to be tolerant instead of over-reactive. Impact of B. infantis in Premature Infants
Research published in Frontiers in Pediatrics shows that preterm infants fed B. infantis EVC001 along with breast milk as standard of care report lower levels inflammation markers and less antibiotic resistant genes in the microbiome.
Disclosure: Products CHAMPS Pediatrics is proud to recommend based on research and experience. When you buy through links on our site, we are supported through an affiliate commission.