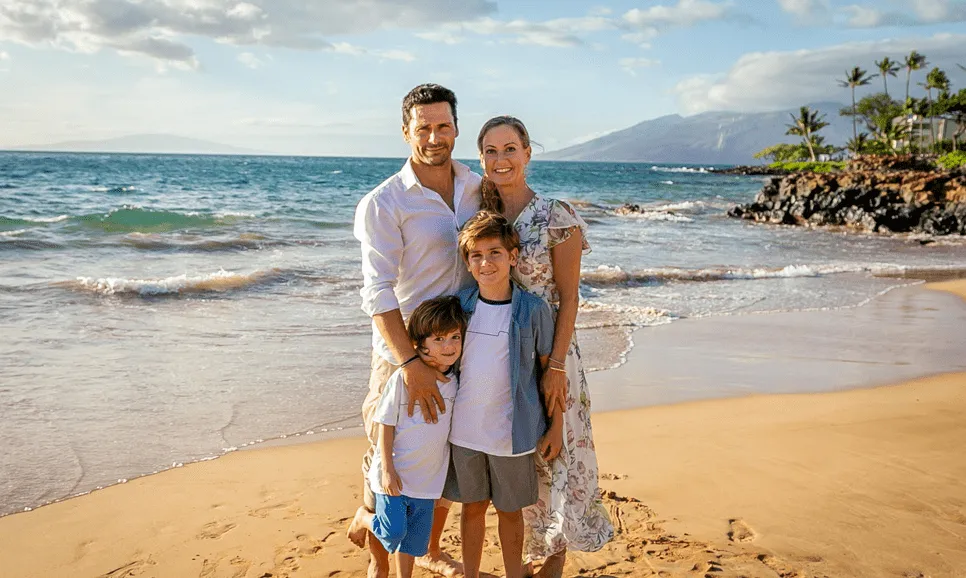 Irene Papaconstadopoulos, MD FAAP
- Dr. Irene Papaconstadopoulos, MD FAAP is a Licensed Medical Doctor in the State of Hawaii and Europe, a Board Certified Pediatrician and a Fellow of the American Academy of Pediatrics
Current positions held:
Pediatrician - Medical Director. CH.A.M.PS Pediatrics in Maui, where she practices as a Private Pediatrician
Clinical instructor for John A. Burns School Of Medicine, University of Hawaii
Affiliate of Maui Memorial Medical Center and Kapi'olani Medical Center for Women and Children
You can see her full bio here
My story - through questions parents and patients have asked me…click to read answers....

I was born and raised in Maryland, USA and at a young age moved with my parents to Athens, Greece, our country of heritage where I completed high school. I come from a family of scientists and athletes and from early on, I was actively involved in sports. Since 4 years old, I actually wanted to be a professional athlete! I have spent all of my teenage years and early adulthood training and competing as a basic member of the Pre-Olympic Synchronized Swimming Team of Greece. This privilege gave me the unique experience of traveling all over the world for World and European Championships, making life long friends from different cultures, and learning first hand that if you do what you love, any goal can be achieved with discipline and hard work. I bring that dedication to my work daily and I strive to inspire my patients to set no limits to their goals and primarily their health.
Before Medical school, I received a Bachelor in Sports Science and Physical Education from the University of Athens, Greece. I was passionate about helping athletes reach their highest potential. During Medical School, at the same University, I worked as a synchronized swimming coach for young girls and found my true calling during my Pediatric Clinical Rotation. I completed 2 residencies in Pediatrics (a total of 6 years), one at the University of Athens, at one of the largest Pediatric Hospitals in Europe and one in New Jersey, at the Unterberg Childrens' Hospital, an affiliate of Drexel University. I have had the honor of complementing my training at world-class institutions such as Johns Hopkins and The Children's' Hospital of Philadelphia. My focus has always been to provide the best possible care to children - the same I would want for my own!
Yes! I have 2 boys, born in 2011 and 2015, that have definitely made me a better Pediatrician. This is by far my most important role.
As a working wife and mother, I know first hand the stress and pressures families face daily. My vision is to have a Pediatric Practice that decreases the paperwork, makes families' lives a little easier and lessens the anxiety of contacting their Pediatrician when they need her.
Board Certified from the American Board of Pediatrics, a Fellow of the American Academy of Pediatrics and licensed to practice in Hawaii and in the European Union. I keep my credentials up to date as strictly required by each organization annually. You can check my certification at https://www.mycertifiedpediatrician.org/
I have an MD from the University of Athens Medical School and a Bachelor of Sports Science from the same University.
Neonatal Resuscitation Provider and Pediatric Advanced Life Support Provider through the American Heart Association.
You can see my full CV here and at https://www.linkedin.com/in/irenepediatrician/
Our Philosophy
Holistic Treating the whole child, taking into account mental and social factors, rather than just the symptoms of the disease. We try to meet with the entire family and work with the caregivers as a team in making decisions for the child's health.
In line with the Hippocratic Oath: Do no harm. We follow the latest evidence-based guidelines and base our information from peer-reviewed resources. Because children deserve care that is based on scientific evidence of the highest standards.
Oligopharmacy. Practicing the art of "less is more". Prevention is most times the best treatment.
Pedagogy/Andragogy (educating children/educating adults). Knowledge is power. In today's world of misinformation, one of our goals is to give patients and parents trustworthy resources regarding their health. Complimentary classes for new parents and first aid classes for our enrolled families are offered via Zoom.
Technology. Using state of the art equipment and methods of communicating with our parents real-time, the moment they need it. We offer secure texting, a telehealth platform, a patient portal, electronic forms and a virtual check-in process with the option for online payments, so you can submit everything before your visit and focus on what is important: your child. The aim is for parents to be able to communicate with the doctor directly, no one in between.
Ecology. We advocate for the conservation of our natural resources since this is the environment we will hand down to our children. Our office is paper-free to eliminate waste but also to save you valuable time.
Short story: The surfing. When we are not in the office, you will find us with our boys surfing, my husband windsurfing, and me paddling or swimming.
Long term story: We found on Maui a multicultural community that embraces everyone equally and that respects nature and an active lifestyle, an environment we want our boys to be raised in and experience. We witnessed the shortage and need for Pediatricians on the island and have now made it our next big goal: to provide every child of Maui easier access to exceptional pediatric care when they need it.
---